3.6 km pressure pipeline for Sellrain-Fotsch hydroelectric power plant
Demanding operations along the Sellrainer Landesstraße
­In the course of operations carried out on the Sellrain-Fotsch power station, Kremsmüller performed perfect welding work on yet another project in the field of hydraulic steel construction. The technical tasks were not overly complicated when compared to previous projects as they involved standard steels and standard welding procedures. Instead, the challenges presented by this project lay in the confined working space and the selective route of the pipelines.
A pressure pipeline with a diameter of 1,300 mm and a wall thickness of 12-20 mm was to be laid along the Sellrainer Landesstraße and in a tunnel leading to the powerhouse over a distance of 3.6 kilometres. During the project, one lane had to be kept free at all times; there was a risk of rocks falling onto the galleries if it rained, and work in the green areas was only permitted at certain times of the year because of the vegetation.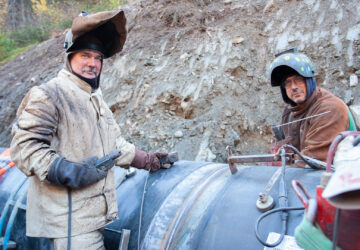 As many as 16 Kremsmüller employees performed welding work of a consistently high standard, as was regularly confirmed by a team of independent experts. It was this outstanding quality coupled with the excellent cooperation between the various skilled trades that played a major role in the rapid progress of the project. Instead of summer 2023, as was originally anticipated, Kremsmüller was able to complete operations as early as December 2022. The power plant was officially commissioned on 2 December 2023 and will supply 2,500 households with CO2-free energy.
Richard Rubatscher, Managing Director of the Sellrain power plant, is more than satisfied with his decision to work with Kremsmüller. In the interview he explains how the traditional company based in Steinhausen was recommended to him by a construction manager from the Austrian Federal Railways (ÖBB) who had been left with a very good impression of Kremsmüller following work on the Spullersee power station. Mr. Rubatscher thanks Kremsmüller for their excellent work and would like to offer the company "his utmost praise".
Below you can see a video report of the Sellrain-Fotsch project. For more information about the services provided by Kremsmüller in the field of pipeline construction, click here.