Reconstruction of OMV SNOx plant
Maximum safety was the focus of the work, which was also technically demanding
Kremsmüller carried out extensive rebuild work on the SNOx flue gas cleaning plant of the OMV refinery in Schwechat. The work related to the condensation part of the SNOx plant and was divided into three subsections.
Scope of the work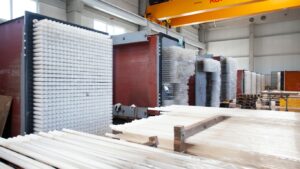 Firstly, the glass tube bundles on which sulfuric acid condenses and drips off in a controlled manner were maintained and cleaned. The 12 bundles, each weighing 8 tons and containing a total of 10,000 glass tubes, were excavated for this purpose, thoroughly cleaned on site and then overhauled at the Kremsmüller site in Schwechat.
Another part of the project included the implementation of a new design for the drip pans. The existing quartz stone lining was replaced by two new foil-lined troughs, which can also be optimally monitored using a monitoring system.
The third part of the rebuild was the replacement of the old clean gas ducts made of steel with new ducts made of fiberglass-reinforced plastic from inwa AG.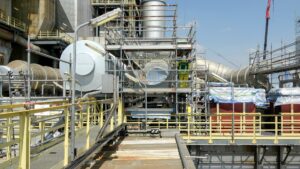 Kremsmüller had already been involved in the construction of the plant in 2006. The aim of the renewed conversion was to further increase the availability and reliability of the plant.
Focus on safety
Safety is a top priority for the client OMV. The various activities, such as lifting, working in enclosed spaces, in containers and in acid areas, require precise and safety-conscious work.
At Kremsmüller, too, safety has always had top priority. A safety expert ensured that the work was carried out safely throughout the entire project. With success, there was not a single incident among Kremsmüller employees for the entire duration of the project. Up to 40 of the company's specialists were on duty at the same time on the SNOx project and, where necessary, carried out their work in special acid protection suits.
Kremsmüller's achievements in the field of safety have already been recognized by OMV with the "safety leader" award in 2021.
Find out more about Kremsmüller's services in plant engineering here.